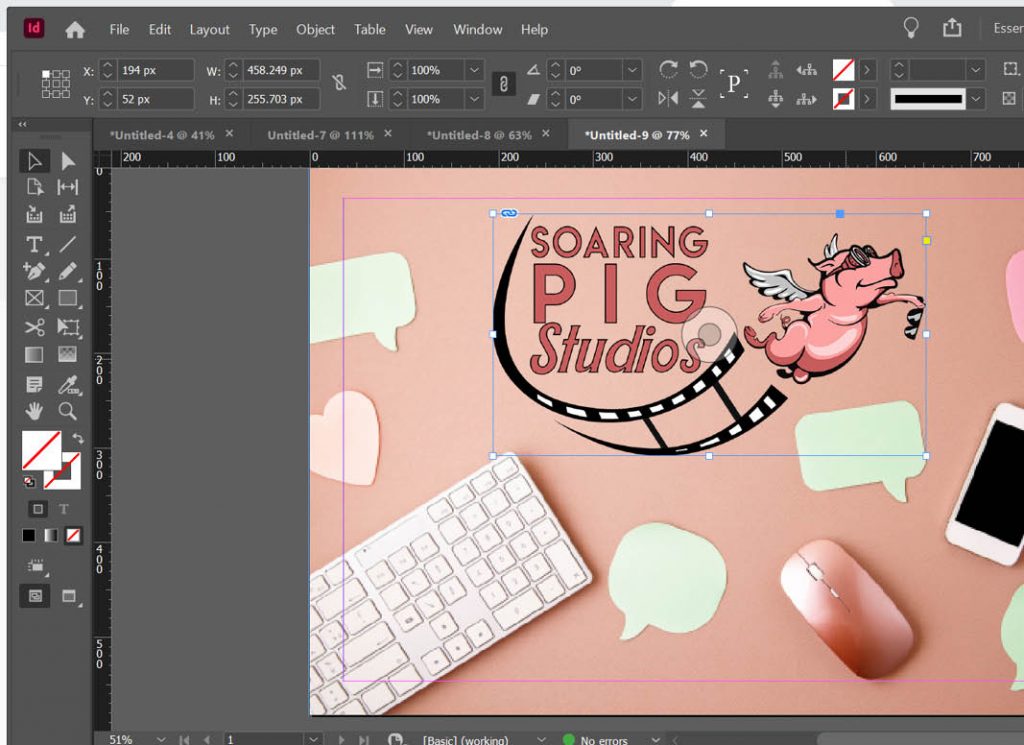 Welcome to Soaring Pig Studios' Graphic Design Services!
Transforming Visions into Stunning Visual Realities – Leveraging 25+ Years of Magazine and News Production Experience
At Soaring Pig Studios, we believe that powerful graphic design is the heart of effective communication. With over 25 years of experience in magazine and news production, we bring a wealth of creativity and expertise to the table. Our graphic design services encompass various projects, from eye-catching banners and captivating backdrops to engaging social media posts, timeless logos, and impeccably designed printed materials.
A Legacy of Excellence: 25+ Years of Designing for Prominent Publications
Our journey in graphic design services started in the fast-paced world of magazine and news production. Over the years, we have collaborated with renowned publications, mastering the art of visual storytelling and understanding the importance of impactful design. Drawing from this rich legacy, we infuse every project with a keen eye for detail, a passion for innovation, and an unwavering commitment to excellence.
Crafting Unique Brand Identities: From Logos to Social Media Posts
Your brand's identity is your essence, and our graphic design team is skilled at creating visually appealing logos that resonate with your target audience. We understand the significance of a cohesive brand presence across all platforms, and our expertise extends to crafting compelling social media posts that elevate your digital presence.
Captivating Visuals for Events and Marketing Collateral
When it comes to events and marketing, our experienced designers know that impactful visuals leave a lasting impression. Whether it's an eye-catching banner that demands attention, a striking backdrop that sets the stage, or printed materials that convey your message flawlessly, we ensure that every design element aligns seamlessly with your brand's identity and objectives.
Unleashing Creativity with Versatility
Our 25+ years of experience have nurtured our ability to adapt and innovate. We take pride in our versatility, ensuring that we can tackle any graphic design challenge that comes our way. From print to digital, we have the skills and proficiency to deliver compelling designs that captivate and inspire.
Collaborative Design Process: Your Vision, Our Expertise
At Soaring Pig Studios, we believe in a collaborative approach to graphic design. We take the time to understand your vision, objectives, and brand personality, integrating our creative expertise with your unique requirements. The result? Designs that are tailor-made to reflect your essence and leave a lasting impression on your audience.
Explore our portfolio of diverse graphic design projects and witness the magic we've created for our esteemed clients. With Soaring Pig Studios as your creative partner, you can trust that your brand's visual identity is in the hands of seasoned professionals with a passion for design.
Contact us today to discuss your graphic design needs, from logos to marketing materials and everything in between. Let's bring your vision to life with an excellent design that leaves an indelible mark on the world!
Contact us today at 780-800-3619 or through our Contact Page
Soaring Pig Studios is operated by Stephen Dafoe of Pawn Marketing & Publishing Inc.